I spent all of last week, well, the first half, anyway, cutting out giant letters with my Silhouette for our Primary room at church. We wanted the theme, which is "Choose the Right", in big, bold letters on the wall where the kids could see it all during primary. I cut each letter out twice...once in green and once in yellow, using the yellow as a border around each letter. The "the" in the middle, I actually cut out in the shape of the CTR shield. Even though it wasn't perfectly how I would have liked it, it turned out great, and really adds some spark to the room! (Maybe next time I take my camera to church I will remember to take a picture!)
In addition to that (not so) little project for church, we had the Baptism Preview yesterday and I made cupcake toppers for the mini cupcakes that were served as refreshments. I think they turned out so cute! I made it in Photoshop with a sweet little
alphabet and number kit
I found on the
LDS Blog Train.
Easy Peasy. I love this site, and am honestly grateful that there are some LDS ladies out there willing to share their talent to create LDS themed digital scrapbook items. I have found it so helpful in my Primary calling!
I'm linking this to Too Cute Tuesday @ Funky Polkadot Giraffe.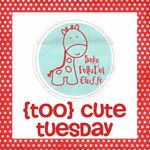 And in other news, I actually found a little time to work on the twins fundraiser quilt a bit this past week. And it was while I was pressing my seams that I was reminded of why I (almost) always try to buy just a touch more fabric than I think I will need:
Now, a little story about this particular piece of fabric. After I had cut it out and was placing my fabric, I noticed a spot on this square. I thought, "Well, let's try to save this," and put some oxy clean paste on it and let it sit for awhile. After a few hours, it looked like it had done the trick and the spot was gone. So I rinsed the square, ironed and and sewed it up into the quilt top.
I'm wondering if leaving the oxy clean on the fabric for so long did something that caused this piece to burn, because I had literally barely run my iron over it before it scorched! Whatever happened to it, I was very annoyed that I had to rip it out and replace it.
But therein lies the reason I try to remind myself to buy a little extra fabric. Some people may think, "What is she talking about, reminding herself to get extra? I always get extra fabric!" Well, I am probably the only quilter alive that tries NOT to horde fabric! I never buy fabric without a specific project planned for it. I try to GET RID of scraps, yes, even THROWING THEM AWAY (gasp!) instead of trying to justify how I could possibly someday use a 1-inch scrap of fabric. So my natural tendency is to only buy as much as I need to minimize waste, and avoid ending up on the show, "Hoarders".
Fortunately, I had maybe a quarter yard extra of this particular print, so I was in luck. And I actually had no trouble tearing it out and replacing it. It sewed effortlessly into place. Thank goodness for my fairly perfect quarter-inch seams :)